Free Google Home Device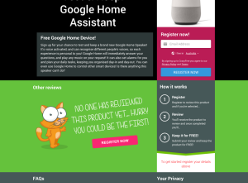 Crazy Free
Added: 25-Aug-17
Closes: 31-Aug-17
Free Google Home Device!
Sign up for your chance to test and keep a brand new Google Home Speaker! It's voice activated, and can recognise different people's voices, so each experience is personal to you! Google Home will immediately answer your questions, and play any music on your request! It can also set alarms for you and plan your daily tasks, keeping you organised day-in and day-out. You can even use Google Home to control other smart devices! Is there anything this speaker can't do?
How it works
Register to review this product and if you're selected
You'll receive the product to review and once completed you'll…
Submit your review and keep the product for FREE!