Win 1 of 500 Domino's Pizzas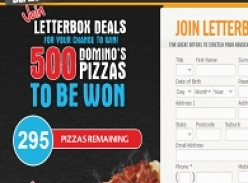 Letterbox Deals
Added: 11-Jul-12
Closes: 14-Aug-12
Competition commences 18th June 2012 and ends at 11:59pm AEST on 14th August 2012. The competition provides for the giving away of 500 Domino's pizzas to Letterbox Deals members. Members are directed to join at http://www.letterboxdeals.com.au from the distributed Letterbox Deals catalogues.
Winners will be randomly determined from membership applications each day via electronic medium. 10 winners will be randomly selected each weekday and 5 winners each day on the weekend. There will be a total of 500 prizes awarded throughout the competition period.
Winners will be notified immediately via the email address they have provided to establish their membership. Winners will be provided with a unique voucher code contained within the email to redeem a traditional Dominos pizza to the value of $7.95. Any relevant Domino's Pizza information surrounding the pizza will be provided in the winning email correspondence.
Total prize value will not exceed $3,975.