Win a Toyota Corolla or choose $20,000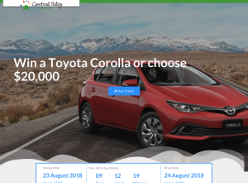 Aspire Charity
Added: 15-Aug-18
Closes: 23-Aug-18
Ready for life's great Adventures
With its impressive performance and safety as well as being packed full of features, every Corolla is ready for life's great adventures.
Touchscreen
Audio
Reversing
Camera
Cruise
Control


Cerebral Palsy Alliance Raffle #108
Standard Terms and Conditions
FIRST PRIZE OPTION 1: Toyota Corolla Ascent 1.8L petrol 5 door hatch manual Includes Stamp Duty, Registration & CTP Insurance. RRP $23,792.15 FIRST PRIZE OPTION 2: $20,000 Cash (credited to your nominated bank account) TERMS & CONDITIONS: Close Date: 12 Noon AEST Thursday 23 August 2018. Draw Date: 12 Noon AEST Friday 24 August 2018. *If the winner/s are from the State of Victoria gold bullion will be issued in replacement of Cash. Drawn: at 36 Industrial Ave, Molendinar QLD 4214. Results are published in the public notices of The Australian on Friday 31 August 2018. All winners will be notified by telephone and mail. No persons under 18 years of age are permitted to enter. PERMIT NO.: ACT R 18/00066, VIC raffle permit no.: 10229/18. Subject to availability, prizes must be redeemed within 1 month of nomination. Conducted under provisions of the Lotteries and Art Unions Act 1901, Lotteries and Arts Unions Amendment Act 2007 and the Charitable Fundraising Act 1991 (Charitable Fundraising Number 10943). For full terms and conditions, please visit our website www.cerebralpalsyraffles.com. au. ® Registered to BPAY Pty Ltd. ABN 69 079 137 518. All images used to portray the prizes are for display purposes only and may not depict exact prize details or size unless otherwise stated, the vehicle is ex. NSW. The car is not transferable or redeemable for cash*, and vehicle will be supplied by chosen supplier of Cerebral Palsy Alliance.