Win a trip to Lizard Island Resort on the Great Barrier Reef!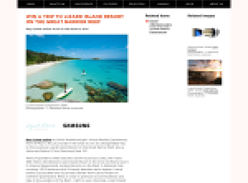 Australian Museum
Added: 04-Jul-16
Closes: 18-Jul-16
TERMS & CONDITIONS:

The Promoter is the Australian Museum (the Museum) of 1 William Street, Sydney NSW 2010.
Ph (02) 9320 6000. ABN 85 407 224 698. NSW PERMIT NUMBER LTPS/16/03421
Information on how to enter to Win a 3 night Lizard Island Resort stay prize package forms part of these Terms and Conditions. Entry into the Promotion is deemed acceptance of these Terms and Conditions.
Entry is online when a ticket into the David Attenborough Virtual Reality Experience is purchased from 13 May to 18 July 2016.
Entry is only open to residents of Australia aged 18 years or older (Eligible Entrants).
Directors, management and employees of the Museum and their agent (Ticketek), their related entities, immediate families, printers, suppliers, providers and agencies associated with this Promotion are ineligible to enter the Promotion.
Promotion commences at 9.00AM (AEST) on 13 May 2016 and closes at 5PM (AEST) on 18 July 2016 (Promotional Period). The winner will be chosen by midday (AEDT) on 21 July 2016 at 1 William Street, Sydney NSW 2010. The winner will be notified via email or phone. The Museum's decision is final and no correspondence will be entered into. The winner has until 5PM (AEDT) on 15 August 2016 to accept their prize. If prizes remain unclaimed at this time, a redraw will take place at 9AM on 22 August 2016.
This is a game of chance.
The Prize includes:
return economy flights for 2 people to Cairns from anywhere in Australia. Valid for travel from 8 January to 20 December 2017 subject to availability.
overnight accommodation in Cairns, 3 nights at Lizard Island Resort's Anchor Bay Suite (includes return scheduled transfers to Lizard Island from Cairns, gourmet meals, unlimited non alcoholic beverages, selected fine Australian and New Zealand Wines, beer, spirits and Sparkling at Salt Water Restaurant and Driftwood Bar, picnic hampers for the adventurous, in room mini-bar, use of non motorised water sports and motorised dinghies. (Additional charges apply for Cocktails, the Cellar Master list and Degustation menus.)
private tour of the Lizard Island Research Station.
Samsung Galaxy S7 – any one of the following:
Samsung Galaxy S7 Hero Black, SM-G930FZKAXSA, valued at RRP $1149;
Samsung Galaxy S7 Hero Silver, SM-G930FZSAXSA, valued at RRP $1149; or
Samsung Galaxy S7 Hero Gold, SM-G930FZDAXSA, valued at RRP $1149;
Samsung Gear VR SM-R322NZWAXSA, valued at RRP $159.00
Prize value $13,300
The Promoter and its associated agencies and companies will not be liable for any loss (including, without limitation, indirect, special or consequential loss or loss of profits), expense, damage, personal injury or death which is suffered or sustained (whether or not arising from any person's negligence) in connection with this competition or accepting or using any prize, except for any liability which cannot be excluded by law (in which case that liability is limited to the minimum allowable by law).
Without limiting the previous paragraph, the Promoter and its associated agencies and companies will not be liable for any damage in transit to prizes, or for any consequences of the winner or any of their companions not complying with any applicable laws and regulations regarding the use of the prize.
The Prize will be awarded in the form of a travel voucher and is not transferable or exchangeable. The Museum accepts no responsibility for any tax implications that may arise from the Prize winnings. Independent financial advice should be sought.
The Museum and the Entrant acknowledge that: the Entrant is providing their personal information to the Museum and Ticketek for the purpose of the Promotion and that their personal information is not being used in any way by a third party.
Entrants can only enter in their own name. Entrants who provide incorrect, misleading or fraudulent information are ineligible to participate in the Promotion and all entries of an Entrant who is deemed by the Museum to have provided incorrect, misleading or fraudulent information may, at the discretion of the Museum, be deemed invalid.
The Prize will only be awarded following any winner validation and verification that the Museum requires in its sole discretion. After the winner has been validated, the winner's details will be published on the australianmuseum.net.au website.
The Museum will not be responsible for any incorrect, inaccurate or incomplete information communicated in the course of, or in connection with, this Promotion if the deficiency is occasioned by any cause outside the reasonable control of the Museum, including but without limitation technical malfunctions or failures.
If this Promotion is not capable of running as planned for any reason, including but not limited to war, terrorism, state of emergency or disaster (including natural disaster), infection by computer virus, bugs, tampering, unauthorised intervention, technical failures or anything which corrupts or affects the administration, security, fairness, integrity or proper conduct of this Promotion, the Museum reserves the right, in its sole discretion, to cancel, terminate, modify or suspend the Promotion and/or, if necessary, to provide an alternative prize to the same value as an original Travel Prize, subject to any written directions made under applicable State or Territory legislation.
The Winner is responsible for taking out their own travel insurance cover should they wish to do so.
As a condition of entering this Promotion, an Entrant consents to, in the event they are the winner, the Museum using the Entrant's name, likeness, image and/or voice (including photograph, film and/or recording of the same) in any media for an unlimited period of time without further notification, remuneration or compensation for the purpose of promoting, publicising or marketing the Promotion (including any outcome), and/or promoting any products or services manufactured, distributed and/or supplied by the Museum. The Entrant agrees that, in the event they are the winner, the Entrant will participate in all reasonable promoted activities in relation to the Promotion as requested by the Museum and its agents.
Provided the entrant does not indicate they do not wish to receive further information, their entries become the property of the Promoter and/or agent (Ticketek). By entering the promotion, unless otherwise advised by the entrant, each entrant consents to the information they submit with their entry being entered into a database and the Promoter and/or agent may use this information to contact the entrant with information and updates from the Promoter.